Method.
To make the pizza base (alternatively, you can use a store bought pizza base)
In a bowl, whisk together pizza flour, semolina and salt
In another bowl, mix together sugar, warm water, yeast and olive oil. Once combined, pour over dry ingredients
Knead until dough is smooth
Divide into two 250g dough balls. Cover with oil and leave to rest and rise in a warm spot
Once risen, cover the dough with fine semolina. Gently stretch onto a baking sheet, pizza stone or cast-iron skillet
Putting it together
In a bowl, mix together ricotta, salt, pepper, chopped chives, dill and capers
Spread the mixture over the pizza dough
Sprinkle grated mozzarella over the top
Bake at 200°C or the highest temperature setting available for 8-10 minuets (make sure to keep an eye on it so that it doesn't burn!)
Garnishes
Once cooked, take the pizza out of the oven & sprinkle some red pepper flakes on top
Place fresh spinach on top and lay out your cold smoked salmon on top. Drizzle with a bit of lemon juice from the wedge.
Cut & enjoy!
Watch us put it together here.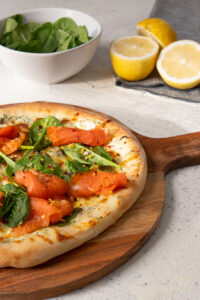 SHARE THIS Recipe
Product used in this recipe.
Shopping list.
Pizza Dough (can substitute with store bought pizza base)
250g Pizza flour
60g Fine semolina
8g Fine Salt
2g Instant yeast
2g Sugar
170g water
16g olive oil
Ricotta base
160g Ricotta
Pinch Salt
Pinch Pepper
20g Chives
20g Dill
20g Capers
200g Grated mozzarella
Garnishes
200g Aoraki Cold Smoked Slices
Fresh spinach
Crushed red pepper flakes
Lemon wedges