Back again for another summer. This limited edition Pōhutukawa Hot Smoked Salmon recipe was inspired by memories of fun family holidays at the beach. A classic kiwi-style blend of blackstrap molasses and Pōhutukawa* wood smoke to create a rich and smoky treat to excite the senses.
Perfect for any occasion, the Pōhutukawa Hot Smoked Fillet is sure to wow your guests at your next gathering as a table center piece. Or get creative in the kitchen, use it in one of your own recipes or find some creations on our website or on our Facebook or Instagram pages. We can also guarantee that it is delicious on it's own!
Available at selected New Worlds, Pak'n Saves & Four Squares nationwide. Also available at Raeward Fresh, Farro Fresh, Moore Wilson's, Commonsense and other specialty retailers. Click here for a list of stockists.
*Rest assured, the team at Aoraki Smokehouse love this special tree as much as you do! The woodchips used are sustainably harvested from windblown Pōhutukawa stands.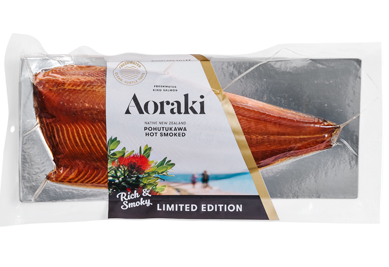 Rich and Smoky - perfect for sharing with family and friends, wherever you gather this summer. Share the taste of summer today!