By popular demand, our Limited Edition Pohutukawa Hot Smoked Fillet now comes in a handy 325g portion.
Inspired by memories of fun family holidays at the beach. A classic kiwi-style blend of blackstrap molasses and Pohutukawa* wood smoke to create a rich and smoky treat to excite the senses.
*Rest assured, the team at Aoraki Smokehouse love this special tree as much as you do! The woodchips used are sustainably harvested from windblown Pōhutukawa stands.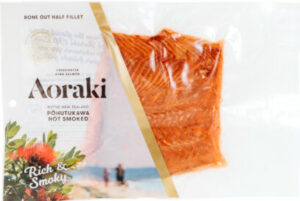 Rich and Smoky - perfect for sharing with family and friends!