Method.
Sushi seasoning:
Dissolve the salt and sugar in the vinegar and mirin by quickly bringing to the boil and then cool.
The rice
Cook the rice using the absorption method
Place the cooked rice in a non reactive bowl (plastic or wood)
Sprinkle the seasoning over the rice and "slice" with a wooden spoon to break up rice lumps
Cool until room temperature
Forming the sushi rolls:
Break the nori sheets in half by folding and creasing
Lightly wet your hands and cover the rough side of the nori evenly with sushi rice
Turn the sheet over onto a slightly damp cutting board
Spread a scant tablespoon of mascarpone down the centre of the sheet and add the Aoraki Hot Smoked Salmon and other ingredients in a 3 cm wide line on top of the mascarpone
Close the roll by placing the edge facing you to meet the sheet on the far side of the toppings line
Tighten with the sushi mat
Cut each roll into 8 pieces & garnish with the pecans
Sushi Tip: Add a conservative amount of fillings, overstuffing will lead to roll explosion!
Sushi Tip: If you're brave, for a dramatic presentation place slices of persimmon on top of the roll before cutting.
Dipping sauce:
Add the soy sauce to the apple syrup & stir to combine
Serve and enjoy with a glass of Spy Valley Evoy 2013 Riesling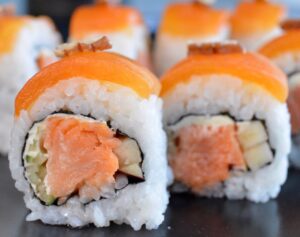 SHARE THIS Recipe
Product used in this recipe.
Shopping list.
Other than ordinary equipment:
Sushi rolling mat covered with plastic wrap.
Aoraki Original Artisan Hot Smoked Salmon
Spy Valley 2013 Envoy Riesling
1.5 cups of sushi rice
4 x half sheets of nori
Sushi seasoning
2 tbsp rice vinegar
1 tbsp Mirin
1 Dessertspoon sugar
1/2 tsp salt
Filling
4 dessertspoons Mascarpone cheese
1/4 cucumber, cut into batons
1 apple, cut into batons
1 persimmon, peeled, cored & sliced
8 pecans, sliced
1 tsp sesame seeds (optional)
Dipping sauce
1/4 cup Japanese soy sauce
2 tsp apple syrup (or maple or date syrup)