Method.
To make your own Orecchiette (to save time, you can buy pre-made orecchiette at the supermarket)
Place flour onto a bench. Create a well.
Gradually pour warm water in and combine. Knead for about 10 minutes or until smooth and firm.
Divide into 4 smaller doughs. Roll into logs and cut into 1cm nuggets.
Drag a blunt knife towards you over the dough nugget until it curls over the knife.
Turn it inside out with your thumb.
Repeat until all the dough is used up.
Lemon-Dill Beurre Blanc
In a saucepan, heat the 15g of butter and add shallots & sweat.
Add the white-wine vinegar & dry white wine. Cook until reduced.
Add cream & salt. Bring it to a boil.
Slowly add the diced butter and whisk constantly until emulsified.
Whisk in chopped dill, lemon zest and juice to finish.
Putting it together
Cook orecchiette in salted boiling water for 3-4 minutes or until the pasta is floating. (For store brought option, follow cooking directions on pack).
Remove orecchiette from the pot and add to the saucepan of Beurre Blanc sauce.
Put the smoked salmon and the peas into the saucepan and stir to warm the peas.
Add some pasta water if needed.
Plate and garnish with micro greens, lemon zest, lemon juice and freshly cracked black pepper.
You can also watch how we put it all together. Click here to watch.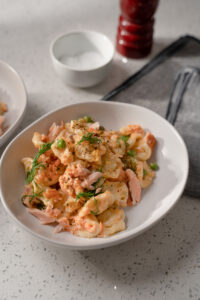 SHARE THIS Recipe
Product used in this recipe.
Shopping list.
Orecchiette Pasta
200g Durum wheat flour/fine semolina flour.
100g Warm water.
Lemon-Dill Beurre Blanc Sauce
15 Butter.
40g Shallots, finely chopped.
45ml White-wine vinegar.
30ml Dry white wine.
90ml Heavy Cream.
Salt.
120g Butter, diced.
40g Dill, chopped.
Lemon zest & juice.
Putting it together
180g Aoraki Original Artisan Hot Smoked Portion, flaked.
Peas, blanched.